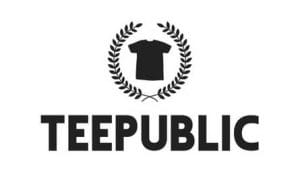 As we all know, t-shirts are a necessary piece of apparel when it comes to not getting kicked out of the local gas station. As a fashion-conscious consumer, you could buy a SpongeBob graphic t-shirt from Walmart and look like a million other generic schmucks, or you could buy something cool that nobody else owns. What would you say if I told you there's a web site that sells a ton of unique shirts created by independent artists? Actually there's a bunch of them, but my favorite shirt site is TeePublic. Read below for a TeePublic review showing my experiences with their shirts.
How Good Is The Print On A TeePublic Shirt?
I've been designing shirts using TeePublic for nearly a year and I'm happy to report that TeePublic shirts are pretty great. TeePublic uses "direct to garment" printing, which is basically a large, high-quality InkJet printer that prints on fabric. Direct to garment allows for a ton of different colors in one image as opposed to traditional screen printing, which is typically limited to four colors. This means artists can design very colorful, complex images without having to worry as much about color choices. Here's a pic of one of the shirts I got from TeePublic:
The color is slightly off from my original design, although that's my fault since the original was made for web and not print. These days I design with print in mind/color correct, so the shirts look pretty much exactly how I want them to. The only negative is the ink is a bit thinner than a screen printed shirt, but so far it's held up well.
How Well Do TeePublic Shirts Fit?
The shirts I own fit perfectly. I like shirts that fit a little on the tight side because I'm in good shape and like to show off the guns. Unlike many American shirts, there isn't a bunch of loose fabric to hide a beer gut, which I like. Behold:
The length of the shirt and the sleeves is pretty much perfect. The black in the shirt itself has stayed vibrant after 30+ washings. Thumbs up! Also the material itself is noticeably softer than the average t-shirt.
Update: Photos Of My TeePublic Shirt – Two Years Later
I originally published this article in October of 2015. It's now late September of 2017. How has my TeePublic shirt held up? Not bad at all. I mostly use this particular shirt in the gym, and it's been worn at least once every two weeks for two years. The ink is definitely worn, but it's not bad at all. Check out this detail photo of my two-year-old TeePublic shirt:
Conclusion
TeePublic is a great service from both an artist and a consumer standpoint.
TeePublic has a unique selection of shirts from independent artists that you can't find anywhere else.
TeePublic shirts fit well.
The print is a good quality with a lot of potential color options.
As far as I know, all of TeePublic's designs are created by independent artists. When you buy a shirt, you're directly supporting the artist.
Customer service is great. TeePublic staff is available by phone, picks up after the first few rings, and are informed and helpful.
All in all, I'd highly recommend TeePublic both to artists and consumers alike. Sign up here if you're an artist and want to sell your work, or click here to check out my designs.
Want a custom shirt design? Hire me to make one!
Read next: Mischief Software Review