Hardcore is a great genre of music. High-energy, crazy and super fun to play. Back in the early/mid 2000s I was fairly plugged into the Fort Collins/Denver Colorado hardcore thanks to my involvement in my old hardcore/metalcore/punk crossover band Rally The Fray.
ORIGINAL ART
Jumping into the world of posterity, I took a bit of time to refresh Rally The Fray's album art for our final EP Prometheus. I created the original album art back in 2007, when I had almost zero idea how to use Adobe Suite. Illustrator was a nightmare for me at the time, although I shockingly created a fairly good flame icon. Here's the original album art: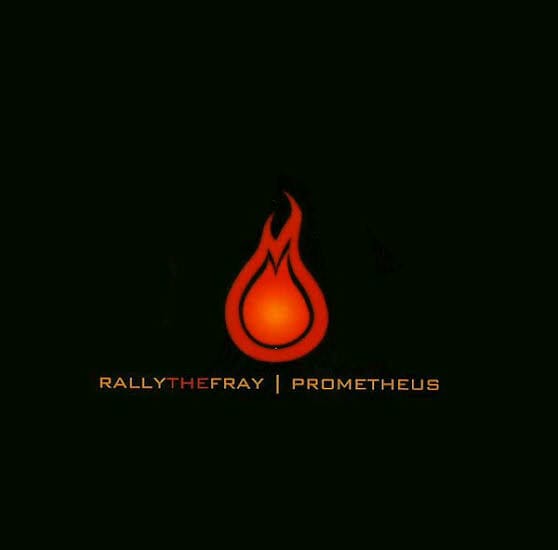 For an amateur effort, it turned out fairly well but as you can tell, I didn't have a good grasp on graphic design at the time. What is kerning??? Unfortunately I lost the master files for this art ages ago, and the only existing images online are from low-quality scans.
HISTORY
The album itself featured an almost totally different lineup from our previous albums. Only Patrick and I remained as original members, with my brother Michael filling in on drums, new bassist Marcus Meyers and new vocalist Mark Frandsen. We had a small midwestern tour with this lineup, plus played several great shows in the robust Denver hardcore scene, including DIY venue favorite Sox Place.
We'd begun work on a second album, with four completed songs that we decided to turn into an EP. We recorded Prometheus in Denver in early 2007 in a studio that I forgot the name of. The recording process went well and was considerably quicker and more polished than our first full-length. Unfortunately the constant lineup changes, increasing debt and costs and internal conflict prompted me to move on in early 2007. With my desired departure, the band decided to call it a day.
We played one final show at Sox Place in April 2007 with several great bands in the scene, including Come Forth By Day, Killing Kings and The Mutiny. We printed up a couple hundred DIY copies of the album with burned CDs, handing them out for free to our friends and fans.
NEW ALBUM ART
I took some time this last week to redo the album art for Rally The Fray's Prometheus album for a portfolio piece and posterity.  I kept the flame motif, roughly tracing the previous image and roughening it up. I grabbed a live photo from our somehow still-existing MySpace page and used it as a backdrop along with the logo I'd created a few years ago. Here's the result:
This new Prometheus album art captures the mid-2007s hardcore look that Rally The Fray didn't quite achieve when the band was active. A fitting tribute to an old project I'm still fond of.
Get a high-quality copy of Rally The Fray's Prometheus for FREE at Bandcamp. We encourage you to share it with your friends!
Want album art, a logo or more? Get in touch! I offer discounts to musicians.