Are you artistic? Can you come up with an interesting phrase or concept? Congratulations! You have the skills it takes to start your own big money t-shirt business.
T-shirt sales are a large part of my recurring revenue stream. As of writing, I have over 250 designs for sale, which typically net me a few hundred extra dollars per month. I'm shooting for 1000 designs by the end of the year, which will hopefully pay my rent in 2016. There's quite a bit of money to be had in apparel design and sales and Robert Koch's "How To Start A Big Money T-Shirt Business For Less Than $10" will help you get rolling.
First off, I'm going to brag a bit about the cover. It's great because I made it, of course. Take a look: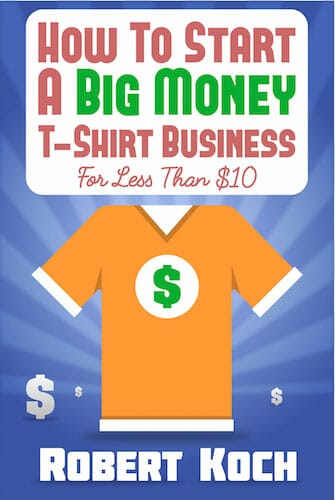 Rob emphasizes in-person networking in addition to internet-driven marketing that so many of us are used to. He outlines how he hired a designer *hint hint* to create an image then sold it to a local business – all in the span of about 10 minutes worth of conversation. Rob offers real-life examples and step-by-step actionable instruction on how to make a sale that you'd frankly need to be borderline retarded not to follow successfully.
Rob's method describes easy outsourcing (a must if you don't have any design skill), how to sell to a business. Best of all, Rob describes why t-shirts are a superior form of advertising for businesses – something I accidentally witnessed firsthand a few months ago.
How T-Shirts Can Outperform Traditional Advertising
The weekend I moved to Denver also happened to be the 420 Rally I headed downtown to watch people get way too high and eat grimy state fair food. Meanwhile I was sitting on the sidelines like some buzzkill church lady because weed makes me stupid. Check out the haze:
I was bullshitting with one of the vendors of a product called "Cool Stash". Cool Stash is a hat with a secret compartment to store your stash that also transforms into a small wallet. It's an interesting and innovative product. While I didn't buy one because I don't have use for it, the owner was a really cool, super nice guy. He gave me a free t-shirt. Here's a pic:
So why is this a big deal? I wear this shirt to the gym occasionally and I've been asked by dozens of people what the shirt's about. I tell the story and how I thought it was a neat product, and I guarantee Cool Stash has gotten more than a few customers thanks to giving away one free t-shirt.
Why You Need This Book
I decided to put the book's methods to the test. I'm a shitty sales guy, and it took me all of four conversations until I sold a design to a local restaurant. I even wound up doing some bonus menu design work for them a few weeks later. Grand total? Roughly $250 worth of work thanks to Rob's methods.
It's not hard to get in on the action, so enjoy my artwork and make some side cash with Robert Koch's "How To Start A Big Money T-Shirt Business."
Click Here To Buy How To Start A Big Money T-Shirt Business
Like my artwork? Hire me to make you a shirt or book cover!